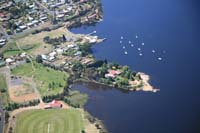 Waterside Accommodation provide quality self contained accommodation by the water at Austins Ferry near Hobart in Southern Tasmania at a reasonable price. Our shore side houses are conveniently located close to major attractions such as Cadburys, MONA, Richmond, Alpenrail, Bonorong Wildlife Park, New Norfolk and the Derwent Valley. Public transport and shops are easily accessible on major roads close by and Hobart is only 15 - 20 minutes away. Our Austins Ferry properties have magnificent views and are suitable as holiday houses or homes, business or executive residences, short term rental or for tourists, business people, visiting work teams and others looking for self contained accommodation in Tasmania. All properties have 3 bedrooms and full facilities. We try and provide allyou need and that little extra you probably didn't! For the latest prices or more information please use our menu or the buttons below. Minimum stay 2 nights. Longer stays may attract discounts at our discretion.
Derwent Retreat is a relatively modern house by the water at Austins Ferry and located 15 - 20 minutes north of the Hobart CBD. The property is self contained and sleeps up to eleven people and all rooms have majestic views of the Derwent River, Mt Direction and Mt Wellington. Major tourist attractions, businesses and shopping are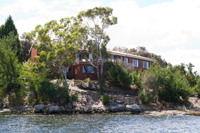 nearby.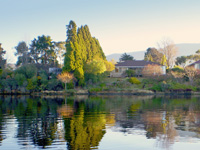 Derwent Vista is by the water at Austins Ferry and located 15 - 20 minutes north of the Hobart CBD. This modern house sleeps up to nine people and all front rooms have majestic views of the river and Mt Direction. From the front garden you can see Mt Wellington.

What to Do in Tasmania
We know it is hard to travel with equipment these days so fishing gear is provided. If you would like to borrow our canoes, bikes, and discs for the nearby disc golf course, please let us know.
On or adjacent to our properties are swimming in the Derwent, fishing, boating or just walking in the parks. If you bring a bike you can use it! If not use ours!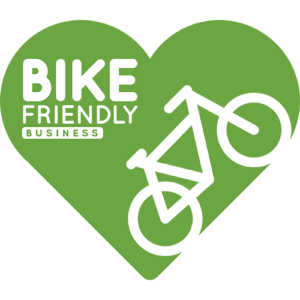 The Derwent provides opportunities for white water canoeing or jetboating further upstream at the historic town of New Norfolk or enjoy a more relaxing time playing golf or bowling at local clubs.
Cadburys, Moorilla, MONA, Richmond, Salmon Ponds, Alpenrail and Bonorong Wildlife Park are all family favourites and close by. There is an RSL, golfing and bowling clubs less than a couple of km away.
Tasmania is endowed with every activity possible from jetboating to skiing, from mountain climbing to some of the best walking in the world. Snorkelling or surfing, fishing or just snoozing on a beach are all within an hour or so of our properties. For those who like dining, nightclubing or gambling, Hobart's inner suburbs of North Hobart and Salamanca are just a 15 minute drive away and Australia's first licensed casino, Wrest Point is just a 20 minute drive away. Salamanca market is a must on Saturday, MONA and Moorilla winery is very close to spend the afternoon listening to jazz and tasting their wares. If history and old buildings are your interest, Richmond is only 35 minutes away.
If you catch a ferry or a plane, Tasmania is the destination you should name.
All our properties are pet friendly and have enclosures suitable for compatible animals.

Other customers would prefer you did not smoke inside.
Thank you for visiting our web page. Please enjoy a free dip book by Barb Harrison available from our downloads area
Payment By

Have a Waterside Property that is Empty most of the year?

We are looking to manage more properties. Earn extra cash and contact us now!

Land Sale

So we can buy more properties for you to stay in around Tasmania we are selling our farm/subdivision. Click on Land Sale in the menu to the left to find our more!